This month, we had the pleasure of interviewing two key contributors to Wildwood Hills Ranch programming. Brad Preston has been a huge asset to the Ranch team in our wood working department and Chef Terrie Kohl in the areas of cooking and hospitality.
Brad Preston
Starting at the Ranch
Six or seven years ago, Matt Moeckl (Wildwood Hills Ranch Executive Director) asked Brad to be the shop teacher at the Ranch. When Matt was in junior high, Brad and his wife, Joni, were youth leaders for Matt and a huge part of his life growing up.
Wood working Background
A good share of Brad's career was in the retail world and a buddy of his said he could work for his construction business. He did that for two years but then started traveling a bit too much and he wanted to be home more with his family. The next step in his career then involved flipping houses after a friend offered him some funding to start the venture. From doing so many of his own projects and construction work he had a very talented background before joining our Ranch team.
Enjoying the Ranch
Brad enjoys the concept of paying back and the relationships he gets to develop with the youth we serve.
All three of Brad's kids were counselors down at the Ranch one summer. They didn't always get along growing up as natural sibling rivalry stories tend to go.  But that summer, since all three of them were down at the Ranch at the same time during spiritual retreat week, everything changed. When Brad reunited with them they came running up to him and had experienced a total change of heart. They thanked their parents for everything they had done for them and that summer forever changed their lives and perspectives. They are now extremely close to one another and have frequent communication.
Brad: "The Ranch made such a huge impact on our family and changed the dynamics of how our family gets together. The kids at the Ranch made a huge impact on my kids. It went both ways. And now, for me, it's all about giving back."
The Foundation of it All
Brad: "One of the key things we've done at the Ranch is build four workbenches. Every project we have done since then has been in contact with those benches—they have been the foundation. It is key that you set up and start with a strong foundation and that is the purpose of the Ranch—building a good foundation."
We are so appreciative of Brad and his dedication to the Ranch and the youth that we serve.
Cutting Boards
If you attend the Wild About the Child Shindig, May 5 at the Stine Barn, be sure and check out an auction package that includes beautiful cutting boards made right at the Ranch by youth at-risk right in your community!
Chef Terrie Kohl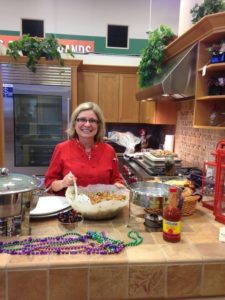 Starting at the Ranch
Chef Terrie Kohl first became involved with the Ranch through Hope at Work at Lutheran Church of Hope.  The leader, David Strege, was talking about his financial literacy training volunteer work with Wildwood Hills Ranch. She shared: "I was sitting there with my heart exploding because I was thinking I can teach the kids how to cook!" The rest is history.
Cooking Background
Chef Terrie's journey began as a food service broker and then led into her being a national food service buyer. Next, she attended the New England Culinary Institute in Vermont, then interned at The Montauk Yacht Club, Thyme & Again Catering and South Hampton Bath and Tennis Club in Long Island, New York. Coming to Des Moines after that debut, she interned at the Downtown Marriot Hotel, Embassy Club Capital Square and Aramark/Pioneer Hi-Bred. She also served as a chef at Drake. Chef Terrie also has served as a judge at the Iowa State Fair and has amassed more than 4,500 cookbooks!
Chef Terrie Kohl now owns her own business, Country Club Market, that will be celebrating 15 years this year! If you are interested in cooking classes, catering and a wonderful time of fun and fellowship give her a call or visit her website at:  515-987-5957, www.countryclubmkt.com.
Enjoying the Ranch
Chef Terrie greatly enjoys the kids' enthusiasm when she is sharing the life skills of cooking with them. The children we teach sometimes are the cooks and caretakers of their siblings as they have no parental figures doing that task within the home, making Chef Terrie's work so crucial to them. Chef Terrie: "They get so excited and glow when I praise them. I love sharing God's gift that He has given me.  I am doing what I was meant to do–to share my passion for cooking."
Chef Terrie attended UNI for social work and psychology. She always wanted to be a social worker for youth.  She shared: "This has come full circle, it brought me to tears when I realized how it all came together.  I now counsel kids through cooking."
We are so thankful for Chef Terrie and everything she has done for our students at the Ranch. She has not only blessed many appetites but she has nourished the hearts and souls of those around her.